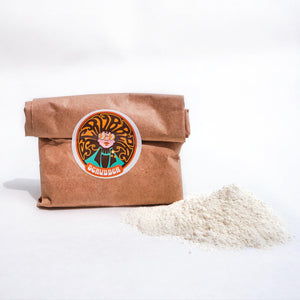 Waste not, want not! Our whole schtick is reducing waste, so these nifty shampoo refills saves one more bit of cardboard from going into your recycling bin!
Each refill is sent in a recyclable brown paper bag, so you can simply empty it into your dry shampoo shaker and keep on shakin'.
ABOUT OUR DRY SHAMPOO
Greasy roots be gone! Voila! Just like that, this natural, eco-friendly dry shampoo will have your hair looking and smelling fresh and floral.
Whether you need to freshen up between washes, survive a festival or camping trip without your mane looking insane, or simply want your locks to smell amazing, Scrubber dry shampoo is the best eco-friendly option for your hair and our planet.
Our Ylang & Rose scented dry shampoo combines the warm, almost fruity fragrance of Ylang Ylang with the darker floral scent of Rose. It has undertones of sweet jasmine and vanilla.
The result is a fresh scent that has both muskier bass notes and fruitier, floral high notes.
HOW DOES IT WORK?
Unlike most commercial dry shampoos that use aerosols, plastic packed packaging and a list of chemicals scarier than the contents of a witch's cauldron, Scrubber dry shampoo uses effective natural ingredients that are kind to your scalp and kind to nature.
The ethically sourced powers and clays that make up our dry shampoo banish greasy looking roots and are mildly antibacterial, making your hair feel and look fresh. The scent is mild but fragrant, making your hair smell fresh and floral, without it being a constant intrusion for your nose!
Packaged in cardboard, recyclable shakers, our dry shampoo is plastic (and guilt) free!
PRODUCT INFORMATION
Volume: 60g
How to Use: Use whenever your hair needs a little pick-me-up. Gently shake a small amount of dry shampoo onto your roots and massage into your hair and until absorbed and invisible. Some users like to brush it into their hair as well. Add more as needed. Depending on how much you use with each application, one tube of Scrubber should last between 1 and 3 months.
Ingredients:
Arrowroot Powder

Bentonite clay

Parfum
Use within 24 months of purchase.
Do not use on irritated or broken skin. If irritation occurs, discontinue use.